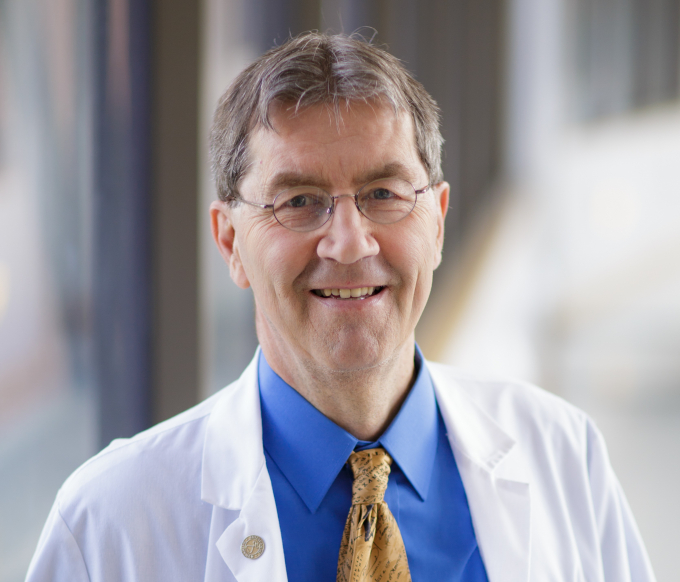 Professor of Medicine
M.D. at Freie Universitat, Berlin, Germany, 'Magna Cum Laude'
Residency in Internal Medicine at Englewood Hostpital, New Jersey.
Fellowship in Rheumatology at New York University.
Faculty member at the University of Florida since 1991.
Clinical Interests
Chronic pain, fibromyalgia, chronic fatigue syndrome, myofascial pain, osteoarthritis, rheumatoid arthritis, systemic lupus erythematosus, dermatomyositis/polymyositis, systemic sclerosis.
Research Interests
Abnormalities of pain processing in patients with chronic musculoskeletal pain
Abnormal descending pain modulation in patients with fibromyalgia
Neuro-Imaging of Pain
The effects of exercise on chronic musculoskeletal pain
Autonomic dysfunction in patients with chronic pain
Research supported by the National Institute of Health (NIH)
Over 200 publications available online: R. Staud
Staud, R. Non-Restorative Sleep in Fibromyalgia. MedScape (2010) in press
Staud, R. Effectiveness of CAM Therapies: Understanding the Evidence. Rheum.Dis.Clin. (2010) in press
Staud, R. Is it All Central Sensitization? Role of Peripheral Tissue Nociception for Chronic Musculoskeletal Pain. Curr.Rheum.Rep. (2010) in press
Staud, R., Price, D.D., Robinson, M.E. The Provisional Diagnostic Criteria for Fibromyalgia: One Step Forward, Two Steps Back, AC&R. (2010) in press<
Staud, R., Target-oriented drug treatment improves clinical outcomes more than routine care in rheumatoid arthritis. ACPJC (2010) in press
Dussias, P., Kalali, A.H., Staud,R. Treatment of Fibromyalgia, Psychiatry 7(5):15-18 (2010)
Kindler, L.L., Sibille, K.T., Glover, T.L., Staud, R., Riley,J.L., Fillingim, R.B. Drug Response Profiles to Experimental Pain are Opioid and Pain Modality Specific. J.Pain (2010) in press
Staud, R., Price, D.D., Janicke, D.D., Andrade, E., Hadjipanayis, A.G., Eaton, W.T. Kaplan, L., Wallace, M.R. Two novel mutations of SCN9A (Nav1.7) are associated with partial congenital insensitivity to pain. Eur.J.Pain (2010) in press
Staud, R., Robinson, M.E., Weyl, E.E., Price, D.D. Alternating exercise with rest decreases pain and hyperalgesia of fibromyalgia patients. J.Pain (2010) in press
O'Brien, E.M.,Waxenberg, L.B., Atchinson, J.W., Gremillion, H.A., Staud, R., McCrae, C.S., Robinson, M.E. Negative Mood Mediated the Effect of Poor Sleep on Increased Pain among Chronic Pain Patients. Clin.J.Pain 26(4):310-319. (2010) PMC20393266
Riley,J.L., Hastie, B.A., Glover, T.L., Fillingim, R.B., Staud, R., Campbell, C.M. Cognitive-Affective and Somatic Side Effects of Morphine and Pentazocine: Side-Effect Profiles in Healthy Adults. Pain Med. 11(2):195-206 (2010)
Staud, R., Robinson, M.E., Price, D.D. Do Past Pain Events Systematically Impact Pain Ratings of Healthy Subjects or Fibromyalgia Patients. J.Pain 11(2): 142-148 (2010) PMC19783222
O'Brien, E.M., Staud, R., Hassinger, A., McCulloch, A.C., Craggs, J.C., Price, D.D., Robinson, M.E. Patient-Centered Perspective on Treatment Outcomes in Chronic Pain. Pain Med. (2010) PMC19732374
Staud,R. Pharmacological treatment of fibromyalgia syndrome: New developments, Drugs 70(1),1-14 (2010) PMC20030422
Wen, S., Wang, C., Berg, A., Chang, M.M., Li, Y., Fillingim, R.B., Wallace, M.R., Staud, R., Kaplan, L., Wu, R., Modeling genetic imprinting of DNA sequences with multilocus polymorphism data. Algorithms Mol.Biol. 4:11 (2009) PMC19671182
Staud, R. Chronic widespread pain syndrome and fibromyalgia: Two sides of the same coin?. Curr.Rheumatol.Rep. 11(6):433-436 (2009) PMC19922733
Staud, R. The overestimation of disease activity in patients with rheumatoid arthritis and concomitant fibromyalgia. Curr.Rheumatol.Rep. 11(6):390-392 (2009) PMC19922727
Staud, R, Abnormal Pain Modulation in Patients with Spatially Distributed Chronic Pain: Fibromyalgia. Rheum.Dis.Clin.35:263-274 (2009) PMC19647141
Staud, R., Nagel, S., Robinson, M.E., Price, D.D. Enhanced Central Pain Processing of Fibromyalgia Patients is Maintained by Muscle Afferent Input: A Randomized, Double-Blind, Placebo Controlled Study. Pain 145:96-104 (2009) PM 19540671
Raphael, K.G.., Janal, M.N., Ananthan, S., Cook, D.B., Staud, R. Temporal Summation of Heat Pain in Temporomandibular Disorder Patients. J.Orofac.Pain 23(1):54-64 (2009)
Shabalina, S.A., Zaykin, D.V., Gris, P., Ogurtsov, A.Y., Gauthier, J., Shibata, K., Sama, S., Tchivileva, I.E., Belfer, I.E., Bikash, M., Kiselycznyk, C., Wallace, M.R., Staud, R., Spiridonov, N.A., Max, M.B., Goldman, D., Fillingim, R.B., Maixner, W., Diatchenko, L. Expansion of the Human-Opioid Receptor Gene Architecture: Novel Functional Variants. Hum.Mol.Genetics 18(6):1037-51 (2009) PMC19103668
Stutts, L. A. Robinson, M. E. McCulloch, R. C. Banou, E. Gremillion, H. A. Waxenberg, L. B., Staud, R. Patient Centered Outcome Criteria for Successful Treatment of Facial Pain and Fibromyalgia. J.Orofac.Pain 23:47-53 (2009)
Nielsen, C.S., Staud, R., Price, D.D. Individual Differences in Pain Sensitivity: Measurement, Causation, and Consequences. J.Pain 10(3):231-237 (2009) PMC19185545