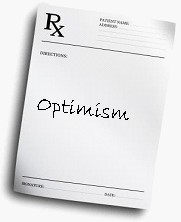 We are all familiar with Big Mouth Billy and his sappy lyrics, which encourage us to not to worry and to be happy. But, could this latex rubber fish be onto something? Fear and sadness are the feelings that heighten pain perception. Researchers have studied the relationship between pain and optimism for years and have found that optimistic people tend to make choices that lead to a healthier lifestyle. Nonetheless, the benefits don't stop there. Optimists counteract sadness and fear, with hopefulness which eases pain perception. Researchers are encouraging everyone to find their "happy place" when they are experiencing pain. However this isn't always the case when we are feeling down; happy thoughts are the last things on our mind. We don't get up and do the "happy dance" whenever we are in pain but researchers encourage us to adjust our attitude to ease our pain and improve our health. So, what can we do to feel more upbeat? Here are 5 simple tips to help you:
Focus on the positive things in life. We can't be oblivious to the negatives but you can focus on the positives things that light up your day.
Channel your inner Rocky Balboa. Remember those challenges that you have overcome and reflect on how you bounced back.
Envision your "Grade A" life. Spend five minutes a day visualizing a brighter future.
Look forward to tomorrow.  Make a list of the wonderful things tomorrow can bring, if you can't find one, plan on doing something that will make you happy.
Change your perspective. Shifting from negative thoughts to positive thoughts can encourage new possibilities.
So, next time you are in pain or just feeling down remember that optimism can be your key to relief! For more information about our research contact us at painresearch@medicine.ufl.edu. or call us at 352-265-8901