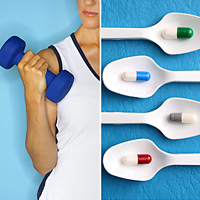 There are currently two frequently used treatments available for fibromyalgia (FM) and chronic pain: pharmacologic and nonpharmacologic interventions. Drug therapies, for FM include medications such as GABA analogues and antidepressants. Nondrug therapies, include aerobic exercise (walking, running, swimming), psychotherapy, cognitive behavioral therapy, and acupuncture.
Recently, researchers in Europe performed a meta-analysis which allowed them to compare the efficacy of drug vs. nondrug therapies for FM.  Interestingly, the researchers found no significant difference between the two. However, the researchers concluded that a combination of nondrug therapies had a "sustained but declining" effect in contrast to pharmacological treatments, which lose their effects once the patient stopped taking the drugs. Simply put, it appears that both treatments work fairly well.
What researchers suggest is a patient-centered approach. That is, while the results of trials are important, it is important to treat the individual and not the average.  When patients were asked to list the top 10 most beneficial therapies for FM, pharmacological treatments were not mentioned. Contrastingly, when asked for the top 10 most harmful, approved drugs were mentioned.  So, while some patients may respond well to drug therapies, others may respond better to nondrug therapies and vice versa.
Nonetheless, researchers champion aerobic exercise as "the most effective weapon" against FM and one reason for this is the reduced risk compared to drug therapies. While we are still searching for the "cure" for chronic pain, our best answer is a graded approach that combines exercise, education, and medications (when necessary).
Here at UF Pain and Fatigue Research Center, we have several  ongoing investigations, involving medications, exercise, and brain scanning, to find better ways to treat FM. For more information, please contact us at 352-265-8901 or by email at painresearch@medicine.ufl.edu
Ricky Madhavan, BA
Senior Laboratory Technician
UF Center for Musculoskeletal Pain Research
European League Against Rheumatism (EULAR) Congress 2013: Abstract SP0061. Presented June 13, 2014.